How We Got Our Start...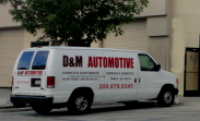 In 1990 Dan began working in the automotive repair business, conducting repairs under his father's supervision. Dan's father was a professional mechanic by trade, with over 40 years of experience, in all aspects of automotive repair. It was through his father's guidance, that Dan learned the foundation of automotive repair. During that time, he dreamt of one day owning his own shop.
After high school, and completing time in the military, Dan went on to work with his family to manage two repair shops in the Tracy area. It was then, that the time was right, and he was able to open a shop of his own, in which D&M Automotive was introduced to Tracy, CA.
D&M Automotive is committed to helping people with their automotive repair needs, while treating each customer as if they are family. Dan and his right hand mechanic Miguel have combined over 25 years of automotive repair experience, which can ease a customer's mind knowing their car is in good hands with knowledgeable and honest people. It is here at D&M Automotive that we believe in never selling a service that is not needed.